No matter what kind of lifestyle you lead, you probably find yourself wondering how you can feed yourself and your family fresh, delicious, healthy meals throughout the week without sacrificing precious free-time or having to slave away in the kitchen after a long day at work. It can be difficult to find meals that require little prep and satisfy the appetite without taking too much time; so, I put together a list of five super delicious and easy weeknight meals to take a little stress off your shoulders.
Sweet Potato and Black Bean Tacos
Perfect for Taco Tuesday or any day of the week, my boyfriend and I LOVE these delicious and simple tacos that are packed full of nutrients. You can literally make this one anyway you want; all you have to do is dice some sweet potatoes into cubes, place them in a medium sized bowl with a bit of olive oil, and mix well with whatever seasonings you like. I like to add cayenne pepper, cumin, salt, pepper, and paprika to give them a smokey southwestern taste. Heat the oven to 425, and cook them on a baking sheet for 30 minutes or until crispy. Flip or stir the potatoes halfway through cooking time.
Then, just heat a can of organic black beans on the stove or in the microwave and season lightly with salt, pepper, and more cayenne for spice if you prefer. Put a nice spoonful of your potatoes and beans on your tortilla or in your taco shell, and add all your favorite toppings; salsa, avocado, cilantro, etc. Delicious and simple to make to your liking!
Cheesy Spinach and Mushroom Baked Potatoes
A couple of weeks ago we tried this recipe for stuffed baked potatoes from peasandcrayons.com and were BLOWN away by how amazingly tasty and wonderful they were! One of the yummiest things I've tried in a long time!
While potatoes take a little while to bake in the oven, the sauce itself only took minutes to put together right before they were finished cooking, so I was able to relax and get other things done at the same time. This recipe could also easily be made vegan.
If you're not interested in stuffing your potato with spinach and mushrooms, you could also use chili, broccoli and cheese, or curry. Just stuff some baked potatoes with something tasty and enjoy a super easy and comforting dinner, period. You can't go wrong!
For this super simple and tasty homemade mac and cheese, all you need to do is mix everything together and add to a CrockPot to cook. It uses only a few ingredients, and is a perfect but impressive dinner for busy nights. It's also a recipe you can tweak, play with, add to, and make your own. You can replace the evaporated milk with any plant based milk if you prefer; its purpose is mainly creaminess. I like to use the evaporated milk and add a quarter cup of almond milk. If you want to use vegan cheese, I recommend the Violife or Follow Your Heart brands. Here's the base recipe to get you started:
3 cups macaroni
2 tbs. butter, softened
2 cups evaporated milk or substitute
3 cups cheddar, shredded
1/4 cup white cheddar (optional)
1/4 cup green pepper, finally chopped (optional)
1/4 cup onion, chopped
salt & pepper
Combine all ingredients in a large bowl; stir well. Add mixture to a crock-pot. Cover and cook on high for two hours, stirring often to prevent sticking.
Vegetable Chow Mein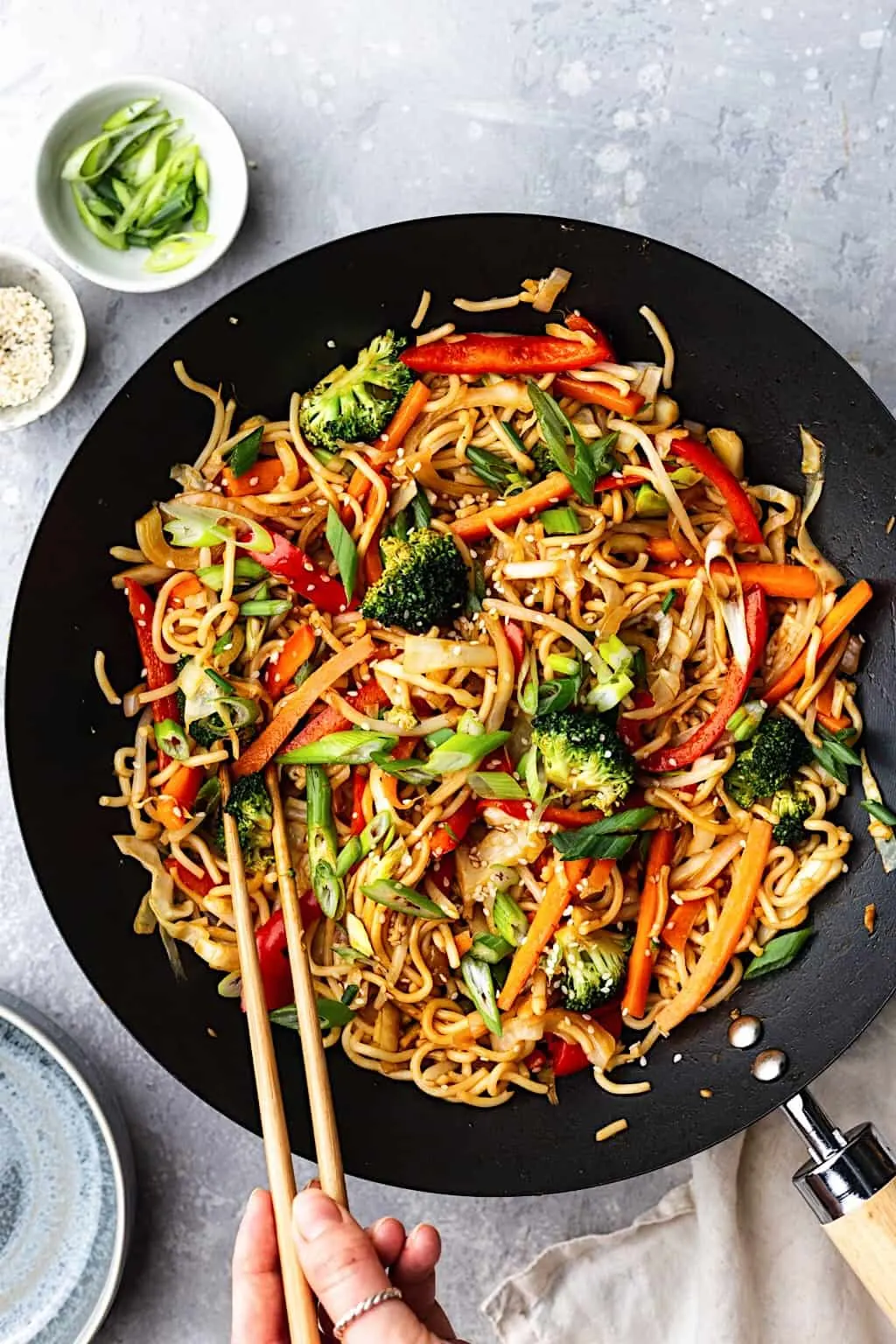 This versatile and delicious chow mein recipe allows you to use whatever veggies you have at home and satisfies that take-out craving. This is also a one pan recipe, making for easy cleanup and leftovers that are perfect for lunch the next day. Try pairing with a side of rice or spring rolls for a filling and savory meal any day of the week.
"Sausage" and Tortellini Soup
So this is probably the most complicated recipe of what I am sharing here, but I couldn't resist because it is my absolute favorite soup recipe and everyone who tries it loves it. It's perfect for cold winter days or just warming the spirit, and it's incredibly simple to make. You'll probably have plenty of leftovers for the next day. I like the Beyond veggie sausages because they have the most authentic tasting spicy Italian flavor, so it adds the most to the soup, but you can use any kind of veggie Italian sausage. You can't mess it up!
1 package Beyond Italian Sausage (or substitute), chopped into pieces or sliced into chunks, your choice
1/2 medium yellow onion (chopped)
2 tablespoons flour
4 cups veggie broth
1 28oz can diced tomatoes (don't drain!)
3 large garlic cloves
Italian seasoning
2.5 cups cheese tortellini
1 cup heavy cream or substitute
Salt and pepper
Warm a large drizzle of olive oil in a large soup pot. Add the sausage and saute until browned and crispy, about 5-7 minutes. Scrape the sausage out onto a paper towel covered plate, and set aside. Add another small drizzle of oil to the pan.
Add onion and saute until translucent and softened, 3-5 minutes. Add 2 tablespoons of flour and stir constantly until onion is coated.
Slowly add veggie broth and stir.
Mix in minced garlic cloves, canned tomatoes, and seasonings. Bring the soup to a gentle boil, then add sausage back in.
Add in the heavy cream and tortellini. Stir well, reduce heat to low, and allow tortellini to cook for 5 minutes. (Do not overcook!)
Remove from heat and serve. ❤
I hope some of these simple weeknight meal ideas make your life a little easier and your tummy happier! These recipes are easy to double for your family or make your own. I think they may become staples in your home like they have mine. The vegetarian diet can be fast, nutritious, and filling all week long. ❤